Recovery from addiction can be hard, and even scary, especially if a person with substance use disorder (SUD) or their family member is unsure of what they should be doing or looking for.
At Ascension Recovery Services, we want to make sure that we are educating others about all aspects of recovery, from a person just looking for resources or for someone who is at the end of their treatment.
Keep reading to learn about some of the commonly asked questions we receive, such as, but not limited to:
---
IS THERE A TRIED AND TRUE PROCESS FOR RECOVERY?
First, we need to understand or define what the word "recovery" means.
Meaningful recovery though has several characteristics including abstinence from drugs and alcohol, increased coping mechanisms to deal with stress, decision making, rewarding oneself, a support system that encourages the recovery process, a new level of maturity and responsibility of one's behaviors and a spiritual component all with a goal of improving overall wellness of the individual.
While we speak of the recovery process, there is not a "general process" to recovery. Everyone's recovery will be different, and it is up to their SUD and them on how they want to recover.
Some, many will argue most, individuals will require some combination of detox, residential treatment, partial hospitalization, intensive outpatient treatment, general outpatient and sober living as a mechanism of achieving the above-mentioned goals.
Detox: The process under which drugs/alcohol are removed from the body. Some substance withdrawal can be potentially deadly. Alcohol, benzodiazepine and even opiate withdrawal at times could be life threatening and are best facilitated under medical supervision, especially if other physical or mental health complications are present in the person with the SUD.

Residential Treatment Center (RTC): A RTC is a live-in healthcare facility that provides therapy for SUD, mental illness or other behavioral issues.
Partial Hospitalization Program (PHP): PHP stands for partial hospitalization programming. ASAM defines PHP as care that is delivered at a minimum of five hours a day, five days a week for a duration of two weeks to a whole month.
Intensive Outpatient Treatment (IOP): IOP stands for intensive outpatient programming. According to the American Society for Addiction Medicine(ASAM), an IOP level of care is set at a minimum of three hours a day, three days a week for a duration of up to two months.
General Outpatient Program: General outpatient programming may include a single group therapy session per week, individual psychotherapy and meetings with a physician (or nurse practitioners) to adjust psychiatric medications. This is a very low level of care and normally will only include one group, and one therapy session per week and a physician consult once per month.
Sober Living Home (SLH): A SLH is a safe space a person with SUD can live during and after their treatment. This environment can operate as a link between an individual's treatment and the real world.
Others may employ strategies such as Alcoholic Anonymous (AA), Narcotics Anonymous (NA), Celebrate Recovery (CR), Refuge Recovery, Smart Recovery or other mutual aid support groups on their own or in combination with clinical ("treatment") services to achieve or maintain their recovery process.
HOW DO I KNOW WHICH TREATMENT IS BEST FOR ME?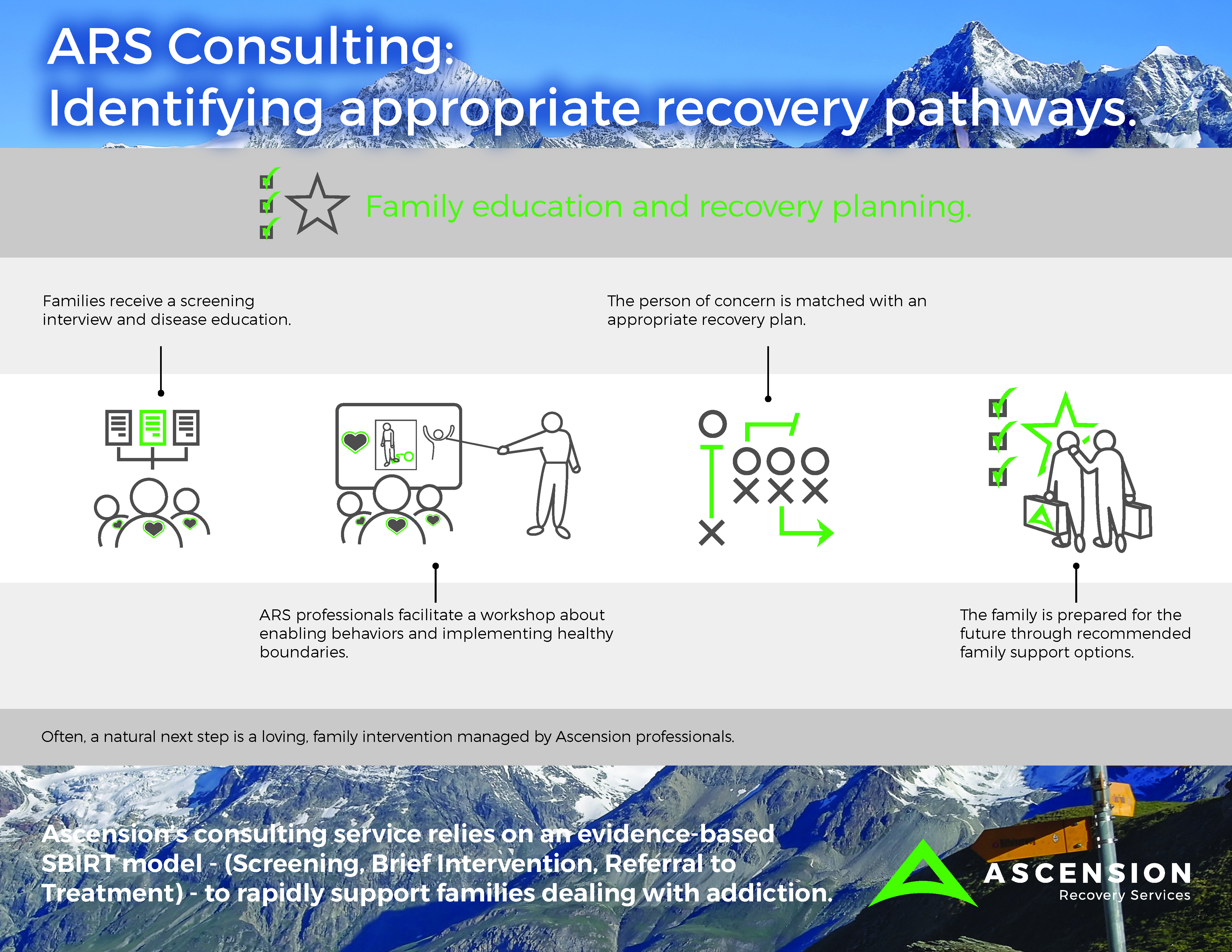 The severity (mild, moderate or severe) of an individual's SUD is based on 11 DSM-5 criteria.
Criteria for Substance Use Disorders
Substance use disorders span a wide variety of problems arising from substance use and cover 11 different criteria:
Taking the substance in larger amounts or for longer than you're meant to.
Wanting to cut down or stop using the substance but not managing to.
Spending a lot of time getting, using, or recovering from use of the substance.
Cravings and urges to use the substance.
Not managing to do what you should at work, home, or school because of substance use.
Continuing to use, even when it causes problems in relationships.
Giving up important social, occupational, or recreational activities because of substance use.
Using substances again and again, even when it puts you in danger.
Continuing to use, even when you know you have a physical or psychological problem that could have been caused or made worse by the substance.
Needing more of the substance to get the effect you want (tolerance).
Development of withdrawal symptoms, which can be relieved by taking more of the substance.
These all play a role in determining what a professional will recommend for placement.
WHAT IF I AM NOT READY FOR TREATMENT? ARE THERE LEARNING RESOURCES THAT I COULD USE?
Most, if not all, mutual aid support groups like AA/NA/CR do not require abstinence to attend their meetings.
The Substance Abuse and Mental Health Services Administration (SAMHSA) is a great resource for individuals and their families looking for solutions. SAMHSA provides many free resources on their website. There are also many social network groups that focus on recovery and ample individuals that are in recovery who are willing to share their experiences with others.
WHAT ARE MY OPTIONS TO PAY FOR MY TREATMENT?
Treatment options and ways to cover treatment costs vary by state, insurance policy, grant funded programs, financial tolerability of the family and much more.
Talking with an addiction professional that regularly refers to treatment can be one of the most valuable resources in navigating these decisions.
To talk with one of our addiction professionals, you can call 304-241-4585.
WHAT IS THE DIFFERENCE BETWEEN SEEKING PROFESSIONAL ADDICTION TREATMENT & ONLY ATTENDING SELF-HELP GROUP MEETINGS?
According to SAMHSA, 7.9 million people in the United States in 2014 had both a SUD and a mental health condition.
Individuals whom utilize mutual aid support groups alone, will only focus on the substance use but not the mental health issues that are often a barrier to success.
Those individual's seeking professional addiction treatment, will benefit from a controlled environment for the individual to begin their recovery process. Some individuals do not have an adequately safe home location, meaning someone within their life is using drugs/alcohol, to begin a meaningful recovery attempt. This barrier can be overcome with inpatient treatment. Or, a patient may also require gender specific treatment due to post-traumatic stress disorder (PTSD), trauma or other process addictions that mutual aid support groups will be unable to address.
Then, there is the amount of personal attention an individual's needs. Since not all individuals have the same deficiencies and assets beginning a recovery process, it's important that someone help address the deficiencies and build on the person's strengths. This is done in very different ways between these two approaches. Those with less intrinsic motivation will certainly benefit from the treatment approach due to techniques the professionals in these treatment centers can utilize to overcome this barrier.
The biggest and most important distinction to note is that "treatment" (especially JAHCO and CARF certified providers) utilize evidence-based therapy methods that are researched and proven to have a positive effect on the recovery process, all of which are facilitated by professionals with education and training specific to the field.
Mutual aid support groups utilize laypersons without any professional training to provide guidance. I personally know individuals that have done both and sustained meaningful recovery (or "sustained remission" - defined as 5 or more years of abstinence).
CAN TREATMENT INCLUDE MEDICALLY ASSISTED TREATMENT (MAT)?
MAT is not solely limited to opiate treatment (vivitrol, suboxone, methadone). Other medication assisted treatments include: Nicotine replacement and several alcohol-based treatments (anabuse, campral and naltrexone).
These treatments are often utilized during and after treatment and require a prescription (with the exception of some nicotine replacement). These treatments help with reducing symptoms including cravings and withdrawal. Anabuse is intended to bring about negative consequences if a person drinks. The person drinking will not break down alcohol effectively and become ill.
WHAT TYPE OF BEHAVIORAL THERAPIES CAN HELP SOMEONE DURING THEIR RECOVERY?
Most treatment providers utilize cognitive behavioral therapy (CBT), some will specialize in certain sub-populations of people with SUDs. For instance, a facility that specializes in trauma may utilize eye movement desensitization and reprocessing (EMDR), while another center that may focus on borderline personality disorder will use dialectical behavioral therapy (DBT).
CBT: This type of therapy aims to change thinking and behavioral patterns associated with the patient's SUD.
EMDR: An eight-phase treatment that tries to identify and address any experiences that have overwhelmed the brain enough that it can't cope, which has then affected the person to have harmful coping strategies like self-medicating with drugs/ alcohol or self-harm.
DBT: This type of therapy is also like CBT, but also emphasizes individual and group therapy to help patients learn life skills like mindfulness, emotion regulation and coping skills.
This is why having a professional's guidance with placement can be a key to success.
AFTER TREATMENT, WHAT GROUPS CAN I JOIN TO HAVE SUPPORT?
In a 2005 study developed by The Walsh Group, with the assistance of The Center for Survey Research (CSR) at the University of Virginia, found that the more involved and well matched an individual with SUD was with a mutual aid support group, the likelihood of continued sobriety increased.
During and after patient's treatment, an addiction professional can help find a mutual aid support group or groups that best fits their personality, religiosity and more.
---
ASCENSION RECOVERY SERVICES | HOW CAN WE HELP?
At Ascension, we have many different services that can be provided to someone suffering from SUD:
Our addiction professionals can also place patients and make referrals. If you'd like more information on sober living homes, check out West Virginia Sober Living, a program designed to reintegrate recovering individuals into the world.
If you'd like to talk to one of our addiction professionals, call 304-241-4585.