OCTOBER IS SUBSTANCE ABUSE PREVENTION MONTH
In 2011, National Substance Abuse Prevention Month began as an opportunity to recognize the importance of addiction awareness and prevention. It provides an opportunity to highlight the vital role of substance use prevention for individuals and communities alike. It is also a time to remember those who have lost their lives to substance abuse. Ascension Recovery Services (Ascension) encourages prevention efforts to ensure the health of teens and young adults.
When youth, teens, or students use illegal substances, it plays a critical role in affecting:
Growth and development, especially brain development.
Negative habits occurring more frequently, along with other risky behaviors.
Development of adult health problems like heart disease, high blood pressure and sleeping disorders.
In addition, the use of illegal substances in youth leads to:
Problems at school
Physical and mental health-related issues
Poor peer relationships
Increased stress on family
Negative behavioral patterns
Lifelong issues, such as substance dependence, chronic health problems and social and financial consequences
PREVENTION
Prevention strategies should target the core issues to minimize and prevent drug use to help people live healthier lives. The National Institute on Drug Abuse (NIDA) identifies 16 principles for prevention programs that base themselves on risk and protective factors, program type and the delivery of the program:
Enhance protective factors and minimize risk factors.
Address all avenues of drug abuse.
Address the type of drug abuse problem along with risk factors and protective factors.
Personalize the program to address risks associated with audience demographics.
Family-based prevention programs enhance family relationships and provide helpful information on drug use.
Address risk factors for drug use as early as preschool-aged children.
Address risk factors associated with drug use in elementary school-aged children.
Programs should enable more knowledge for those in middle school and high school to develop competency with communications, healthy habits, drug resistance skills and more.
Promote healthy relationships for transition periods, such as from middle school to high school.
Community prevention programs are more effective with the combination of two programs, such as family-based and school-based information.
Community prevention programs are most effective when they reach multiple groups from schools, the media, to faith-based organizations.
Communities adapt programs to match the needs, normalities and culture of environment.
Long-term programs with multiple interventions offer benefits to achieving prevention goals.
Teacher training in prevention programs promote positive classroom management techniques.
Employing many interactive techniques like educating on drug abuse provide effective prevention programs.
Research-based programs are cost-effective.
Our team at Ascension encourages parents to educate their teens at an early age. Having this meaningful conversation with your loved one could possibly save their life. If you are looking for extra educational resources, the National Child Traumatic Stress Network (NCTSN) is a valuable resource for more information on prevention.
Early interventions can also be an effective prevention tactic to help your loved one before a substance use disorder (SUD) develops or worsens. Research shows that successful early intervention and treatment provides significant benefits for both individuals and society.
If your loved one is or will be seeking treatment, you can offer support for your loved one by:
Contacting an addiction profession like Ascension
Educating yourself with materials about addiction and treatment
Making efforts to better understand your loved one's addiction by attending NAR ANON or AL ANON meetings
Establishing boundaries
Encouraging your loved one to complete their treatment program
ADDICTION
The National Child Traumatic Stress Network states that nine out of 10 people who abuse drugs have been using since before they were 18 years old. Studies show that the earlier an individual starts smoking, drinking, or using drugs, the higher the chance of developing SUD.
Did you know youth engage in binge drinking more than adults? According to the National Institute on Alcohol Abuse and Alcoholism, 1.3 million young people reported binge drinking on five or more days per month. Underage drinking is a serious problem that should not be taken lightly.
Youth and young adults can develop these habits at a young age, making it more difficult for them to stop as they become older. SUD is a brain disease manifested by compulsive use, despite harmful consequences. Individuals with addiction have an intense focus on using a particular substance that takes control of their lives.
TREATMENT
Finding the right treatment option for your loved one on your own can be difficult. There are many factors that enter into deciding on the specific treatment option best suited to meet their particular needs.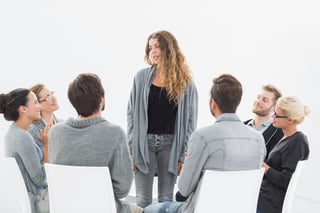 In addition, there are several core treatment modalities that may further benefit your loved one. Our team can help them find the perfect fit to achieve success in their recovery process.
Ascension offers the following addiction recovery services:
Intervention - Ascension specializes in difficult circumstances surrounding SUD. When efforts have failed, we provide families with a proven pathway towards wellness. Our goal is to encourage the person to undergo treatment, change the family dynamic, and address fears by introducing healthy boundaries that end enabling behaviors. We specialize in managing the difficult circumstances and provide families with a course of action towards wellness by utilizing our 10-step approach.
Monitoring Services - Our monitoring services include family support and job assistance. We have a 10-step relapse prevention and monitoring process that provides the leadership necessary for your loved one to become independent. Our post-treatment monitoring service offers the essentials for your loved one to be given a better chance of life-long sobriety through the development of life skills and support.
Consulting Services - Our consulting professionals offer addiction treatment for families needing a full assessment of options with guidance and support. Our family education and recovery planning program provides a four-step approach through the evidence-based SBIRT model (Screen, Brief Interview, Referral to Treatment). Our professionals facilitate a workshop detailing enabling behaviors and how to implement healthy boundaries. Your loved one is matched with an appropriate recovery plan.
Legal Services - At Ascension, we have built a strong relationship with the court system because we carefully screen requests for legal services. This ensures our clients possess a genuine desire for a healthy recovery. The treatment we offer is managed correctly through a proven, full-family approach. Our team works to provide treatment updates with the lawyer and court system.
Clinical Transport - Ascension offers clinically supervised transportation for willing participants to treatment or after-care facilities. We work with all treatment centers. Our trained counselors and certified recovery coaches are eager to help with clinical transportation on a national scale.
ABOUT ASCENSION RECOVERY SERVICES
Recognizing that your loved one is suffering from SUD is the first step toward lifelong recovery. The addiction professionals at Ascension are here to guide you through this difficult process, offering a variety of programs customized to fit your loved one's needs.
Recovery isn't easy, and the challenges and temptations individuals face can be overwhelming. However, together with Ascension's expertise, we can help your loved one begin the journey to a healthy, sober and fulfilling life.