Addiction is a chronic, progressive disease that gets worse over time if not treated properly. Recovery is not easy, but it is possible. At Ascension Recovery Services, our encouraging and certified team of professionals are here to help you. We can contribute to your loved one's recovery through our customized treatment solutions.
Our clinical professionals can provide an intervention, assessments and other services needed to make the appropriate recommendations on what type of treatment your loved one should receive. Long-term recovery success rates increase when treatment programs are paired with extended maintenance programs for recovery integration.
TREATMENT OPTIONS
Ascension offers the following services to provide your loved one with the best treatment options:
Our experienced empathetic interventionists use evidence-based strategies to find the best solutions for individuals struggling with substance use disorder (SUD). Our goal is to encourage the person to undergo treatment, change the family dynamic and address fears by introducing healthy boundaries that end enabling behaviors.
We specialize in managing the difficult circumstances and provide families with a course of action towards wellness by utilizing our 10-step approach:
The family in crisis must recognize the problem.
Relief begins with the first call to our team.
Our intervention team is assembled, and the appropriate plan is outlined.
Our team gathers information and conducts interviews with family members.
Evidence of the addiction and inaction is identified.
Treatment options are examined and personalized with the individual's specific needs, financial situation and insurance in mind.
Transportation logistics are addressed.
Group rehearsals are done to prepare the family.
The intervention is performed.
The goal is for your loved one to enter treatment.
Even if your loved one does not enter treatment, we believe an intervention is successful by helping the family feel they have been heard and begin building healthy boundaries.
How do you know when it is the right time to have an intervention? When you have noticed any of the following signs, we suggest calling us to plan an intervention:
The chaos of addiction has spiraled out of control.
Constant concern and anxiety brought on by addiction are all consuming.
You are struggling to break through your loved one's denial.
Family destruction from addiction has created angst and frustration.
You need solid advice and credible information about treatment options.
Your emotional connection to the situation makes it hard to be objective and reasonable.
You have had enough waiting for the problem to correct itself and have lost hope.
To learn more about our intervention services, download our guidebook below:
Our monitoring services include family support and job assistance.
We have a 10-step relapse prevention and monitoring process that provides the leadership necessary for your loved one to become independent.
Stay engaged in a managed therapeutic plan. The transition to aftercare is critical.
We mediate the relationship between the person in recovery and the family.
Transitions to an appropriate housing situation are coordinated. This may include residence in a sober living home.
Participate in a facilitated 12-step programming and sponsorship.
Accountability is managed through regular check-ins and drug testing.
Ongoing counseling is coordinated for the person in recovery and the family.
Family meetings and continual therapeutic assignments support the family in their recovery.
Progress reporting benefits sustain the recovery and healing process.
Integration is supported with job placement assistance.
We are equipped with sober living tools and a solid plan for the family and person in recovery to continue a long-term, healthy lifestyle.
Our post-treatment monitoring service provides the essentials for your loved one to be given a better chance of life-long sobriety through the development of life skills and support.
Ascension believes it is valuable to not only end enabling behaviors but to create meaningful family interactions.
We develop a customized process that encompasses:
Extended care transitions
Development of aftercare plans
Accountability management
Case management
Coaching with a state certified recovery coach
Progress reports and family correspondence
Toxicology screenings
To provide family support, we act as an intermediary between the person in recovery and family members in order to safeguard the process. Our goal is to help family members not become overly involved in their loved one's recovery process to enforce maintaining a stable, self-sufficient and productive life.
To provide job assistance, our team works to connect your loved one with the resources for obtaining a job. We suggest to begin with a low-stress job with the purpose of reintegrating the individual into a healthy working environment. We hold the individual accountable and require them to be persistent and follow through during the job search.
We provide the following job assistance services:
Resume guidance
Coaching
Interview Roleplay
Budgeting assistance
Motivation every step of the way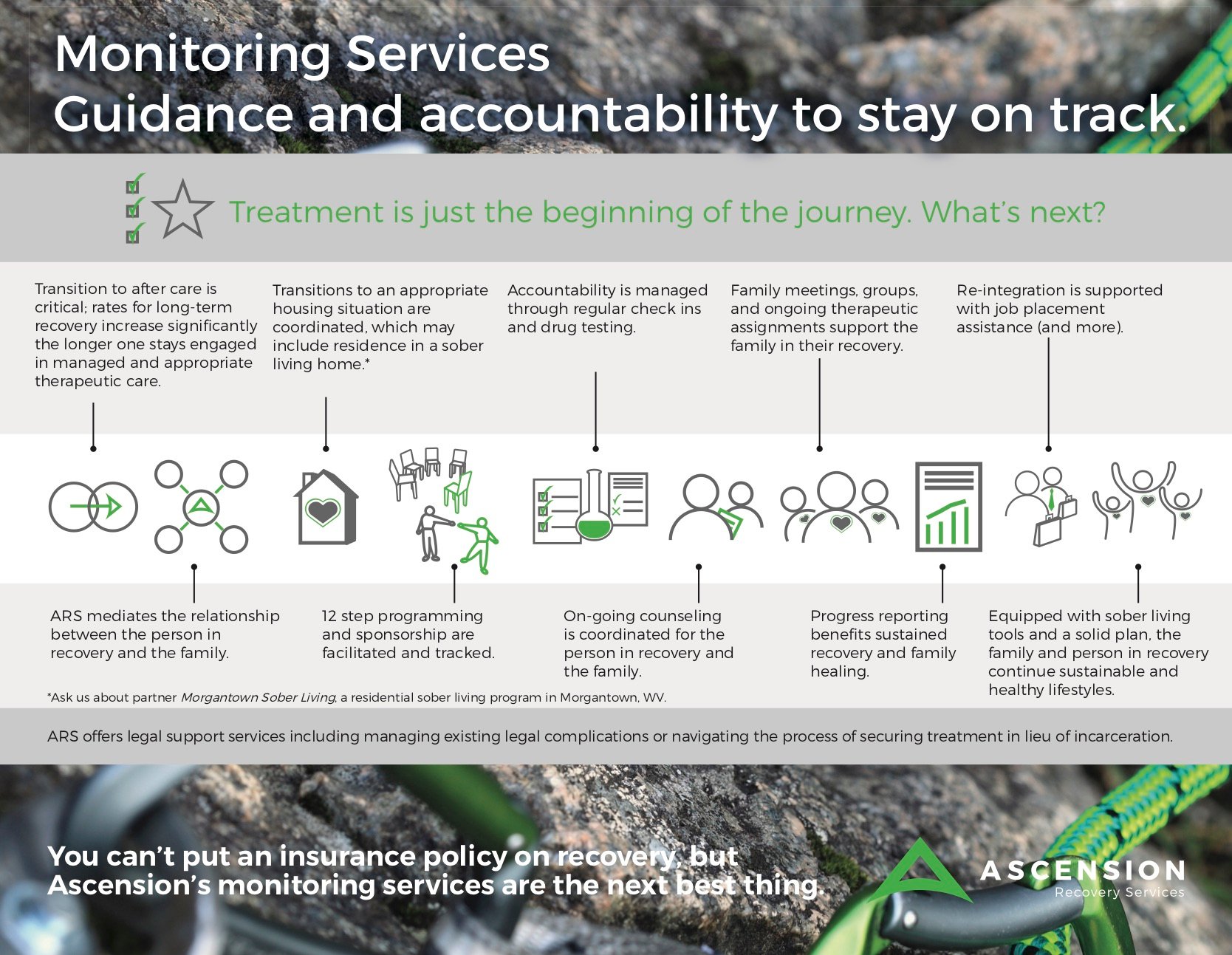 Consulting Services
Our consulting professionals offer addiction treatment for families needing a full assessment of options with guidance and support. Our family education and recovery planning program provides a four-step approach through the evidence-based SBIRT model (Screen, Brief Interview, Referral to Treatment).
Our professionals facilitate a workshop detailing enabling behaviors and how to implement healthy boundaries. Your loved one is matched with an appropriate recovery plan.
Family consulting services include:
An assessment by our expert team for a self-managed action plan
Program and treatment placement recommendations
Family coaching and treatment solutions
Recovery mentoring and resources for individuals and families
Legal Services
According to The Bureau of Justice Statistics, nearly two million people, about 36 percent, had been drinking alcohol when they committed their conviction offense. A crime committed under the influence is cause for jail time. Our legal services encourage the option of treatment as an alternative to incarceration.
At Ascension, we have built a strong relationship with the court system because we carefully screen requests for legal services. This ensures our clients possess a genuine desire for a healthy recovery.
The treatment we offer is managed correctly through a proven, full-family approach:
We are contacted before bail is posted or lawyers are contacted.
Appropriate legal support is identified, and information is gathered.
We meet with the family and discuss how their loved one will receive guidance.
We fulfill expert witness and testimony roles.
Treatment is catered towards the individual's needs in conjunction with financial and insurance status.
We have coordinated efforts with the courts. This creates healthy accountability when negotiations take place.
We coordinate transportation logistics.
We participate in legal proceedings.
The individual then enters treatment.
Our team works to provide treatment updates with the lawyer and court system.
Addiction recovery legal services offered:
Establishing a plan for rehabilitation in lieu of incarceration
Presenting a written plan to the attorney to use in legal proceedings
Facilitating the placement of clients into treatment
Providing transportation of client to treatment by Ascension staff
Expert witness testimony
Establishing case management
Liaising legal requirements
Scheduling or acquiring toxicology screening documentation
Ensuring compliance with reporting and communication requirements
Facilitating the collection of treatment documentation including discharge summaries
Sending regular updates to the client's family
To learn more about our legal services, download our legal services guidebook below:
Clinical Transport
Ascension provides clinically supervised transportation for willing participants to treatment or after-care facilities.. We work with all treatment centers. Our trained counselors and certified recovery coaches are willing to help with clinical transportation on a national scale.
With our four-step approach, we help through:
Coordination and logistics
Air, lodging and transportation arrangements
Personal connection and monitoring throughout the entire experience
Experienced support during the transition to recovery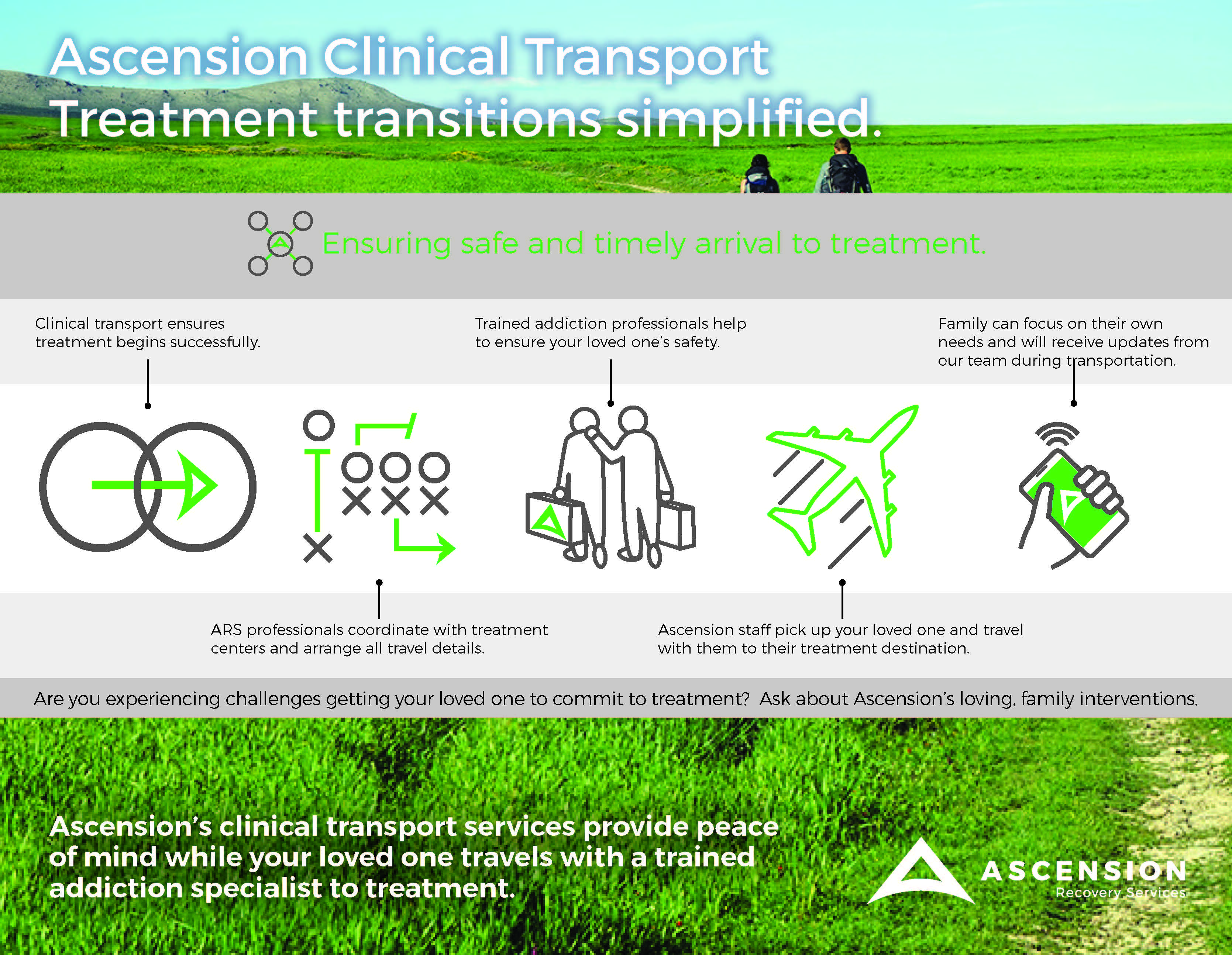 HOW WE FIND THE BEST TREATMENT FOR YOU
Finding affordable treatment options for your loved one can get expensive. The treatment options we suggest are based on an individual's needs. This not only provides long-lasting lifestyle changes for the betterment of your loved one, but it can also help save money with:
Medical costs: Overdoses, injuries, short-term and long-term illnesses related to drug use
Legal costs: Substance use arrests such as court and lawyer fees
Family costs: Supporting a loved one affected by substance use disorder or their children
Treatment center options can include:
Residential Treatment Center (RTC) - This is a live-in facility with 24-hour staff. The level of care involves 30+ hours a week of treatment. RTC is the highest level of care for the treatment of SUD.
Partial Hospitalization (PHP)- This option is five days a week with six hours a day treatment that provides the necessary level of care needed in an outpatient setting. The individual or group therapy is a minimum of 20+ hours a week. PHP provides a higher level of care than outpatient treatment; however, does not require a residential stay.
Intensive Outpatient Program (IOP) - Patients experience three hours a day, three days a week treatment routine. Individuals maintain family and work responsibilities while moving forward in recovery.
Sober Living Home (SLH) - This option provides a structured living environment to help the client transition into an everyday lifestyle with the group support of those with similar experiences. This provides accountability and a third-party to report on progress.
Additional programming in these treatment programs may include mindfulness therapy, humanistic and existential psychology, care or medication-assisted treatment (MAT).
Aftercare is equally as important as treatment. After treatment, we provide guidance on one of the most important recovery components. Our interventionist is with you, your loved one and your family every step of the way.
Aftercare includes:
Joining mutual aid support groups, such as Alcoholics Anonymous or Narcotics Anonymous
Individual therapy
Understanding signs of relapse
Increased accountability through monitoring programs
Facilitate with the familyabout the importance of aftercare
Our staff provides quality recommendations about which center would be the best fit based on your financial needs. Recommendations are based on our relationships with various treatment centers, and with additional resources we have in the area. We have the ability to negotiate with the treatment centers to provide cost savings catered towards you.
ABOUT ASCENSION RECOVERY SERVICES | ADDICTION TREATMENT IN MORGANTOWN
Ascension Recovery Services (ARS) provides addiction clinical services, including interventions, monitoring, legal services, consulting services and clinical transport.
Our hearts go out to families and loved ones who struggle with finding a solution to those experiencing addiction. We understand investing in the right recovery service for your loved one might be hard to navigate. We know the prescription for addiction is love and concern.
If you or a loved one is in need of finding addiction treatment, please give us a call at (304) 241- 4585.