Welcome to Ascension Recovery Services! We've been expanding rapidly in response to the national opioid epidemic and would like to tell you about some of our services.
WELCOME TO ASCENSION RECOVERY SERVICES
Ascension Recovery Services, located in Morgantown, West Virginia, provides national clinical drug and alcohol addiction recovery services to those who suffer from substance use disorder (SUD) and program development services to those who wish to open a SUD treatment facility.
Our clinical services range from intervention services to recovery services such as monitoring, consulting and clinical transport.
Our program development services range from the development of sober living homes, intensive outpatient programming (IOP), partial hospitalization programming (PHP) and residential treatment centers. We provide these consulting services to individuals, investor groups, clinical practices, hospitals and health care systems on a national basis, with extensive work in West Virginia. Our twofold goal is developing programs that provide the highest quality of care to the population that is seeking service and creating a sustainable business model.
For program development, we can help you with:
Partial Hospitalization Programs (PHP)
RESIDENTIAL TREATMENT CENTERS
A survey conducted by the Substance Abuse and Mental Health Services Administration found that as many as 90 percent of people who most need drug rehab do not receive it.
Residential treatment centers are crucial to the continuum of care for SUD.
The process may feel long, but Ascension can guide you through our program development process.
This development process includes:
Developing a feasibility study, start-up budget and proforma financial analysis, and business plan for the desired treatment program
Researching potential grant funding, private equity support and financing options
Applying for a behavioral health license and developing all related policies and procedures required for licensure
Developing a program to include daily schedules, full treatment programming and curriculum, and staffing model
Creating a robust strategic outreach plan that includes branding and marketing, to get the right message out and expedite the process of building program census
Preparing for a successful and smooth grand opening
Download our in-depth guide to learn more about this process. We cover:
Feasibility and market analysis
Business and organizational structure
Full support from our team for starting a center
INTENSIVE OUTPATIENT PROGRAM
Those who take part in an IOP and sober living housing are twice as likely to avoid relapse than those who only lived in drug-free housing.
The value of intensive outpatient programs has been verified through a number of industry studies, and intensive outpatient programs are proven to substantially reduce alcohol and drug use of those who attend consistently.
Through our three phases of our IOP program development process, we can get you on the right track to opening one of your own.
You can download our guidebook on how to start an intensive outpatient program (IOP) below.
SOBER LIVING HOME
The value of sober living homes has been verified through several industry studies, and the combination of sober living homes and Intensive Outpatient Programs (IOPs) is proven to have a high rate of success.
However, opening a sober living home is not as easy as just buying or renting a home and opening the door to those in addiction or recovery.
We can provide consultation services to individuals such as:
Location & site selection
Zoning laws
Availability of drug treatment services (including IOP, Psychiatry, & Counseling)
Public transportation
Employment resources
House rules
Staffing
Funding
Financial modeling
Establishing a non-profit
Combating NIMBY (not in my backyard) concerns and more
To download our in-depth guide on how to open a sober living home, click below.
ADDICTION INTERVENTION SERVICES
Our empathetic addiction interventionists use evidenced-based strategies to connect individuals struggling with substance abuse addiction to an appropriate solution. We know the prescription for addiction is appropriate love and concern.
The goal of an intervention is not to coerce the person with addiction to go to treatment; it is to change the family dynamic.
Ascension has developed a 10-step approach.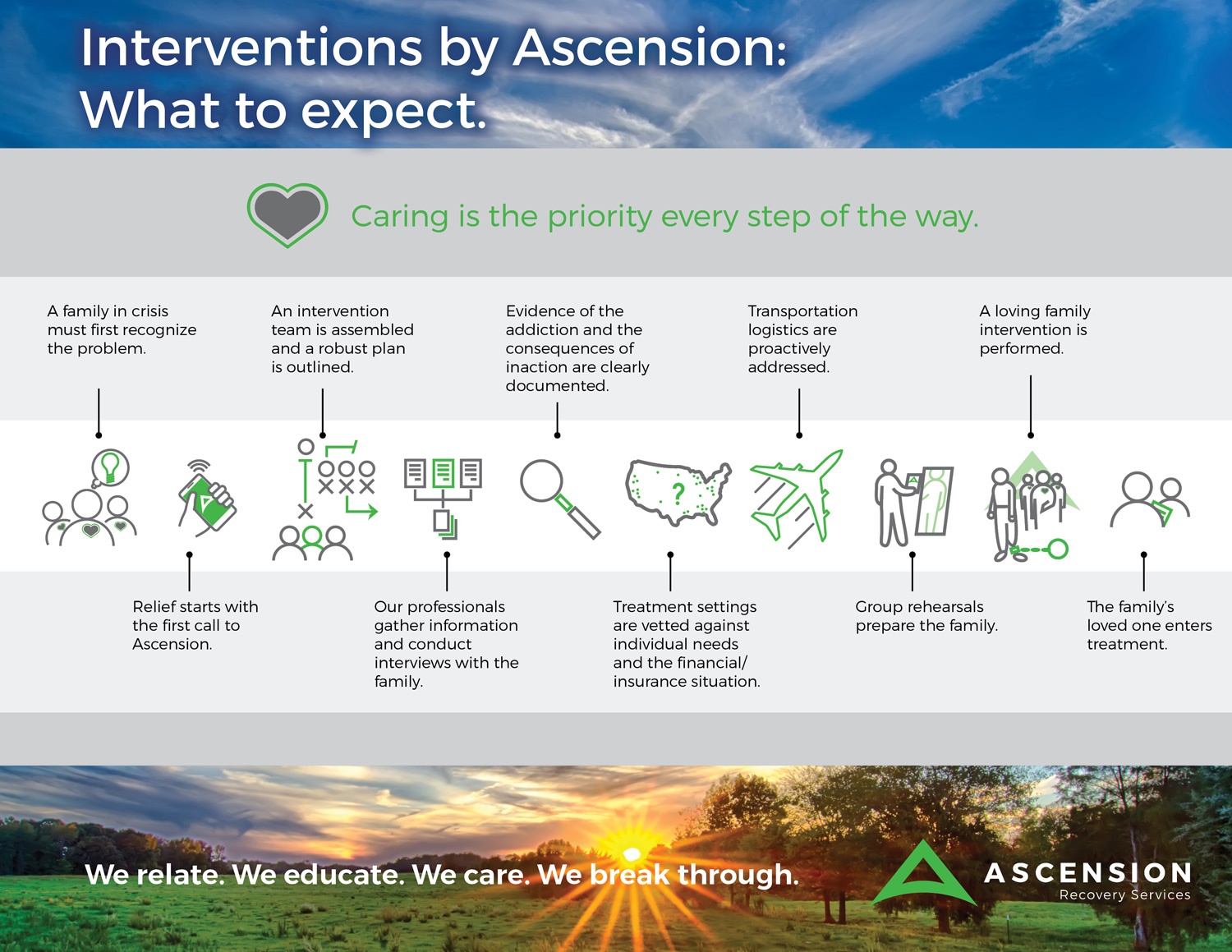 NATIONAL ADDICTION RECOVERY SERVICES
Families with loved ones who are struggling with addiction have often tried everything they know. It's not unusual for physical, emotional and financial resources to have run dry.
We can offer recovery services from intervention, monitoring programs, legal services, consulting and clinical transport.
Monitoring Programs
Success rates for long term recovery increase dramatically when treatment programs are paired with extended maintenance programs.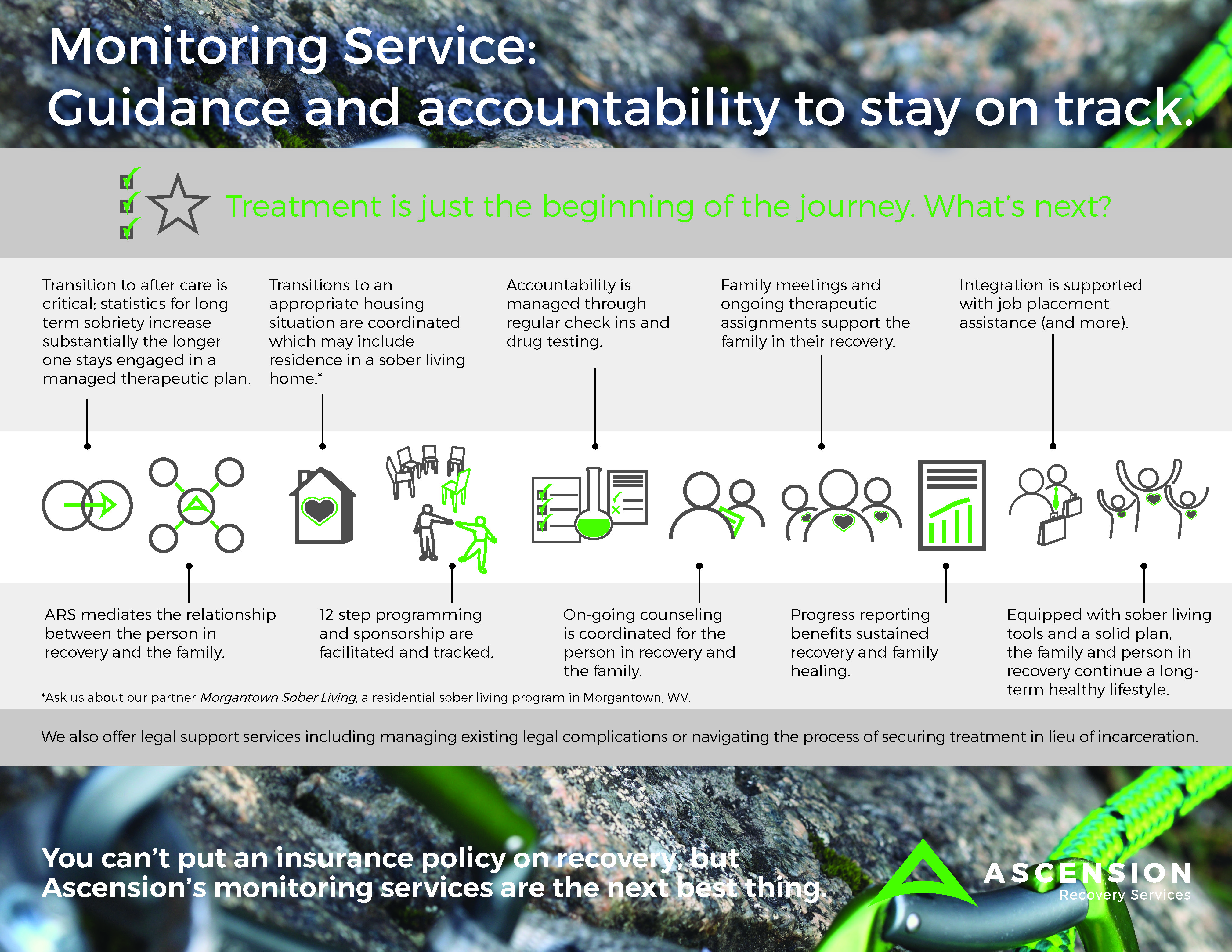 Legal Services
Legal intervention is usually the first step toward recovery. We try to help everyone involved from the courts to taxpayers, families and the community that surrounds them.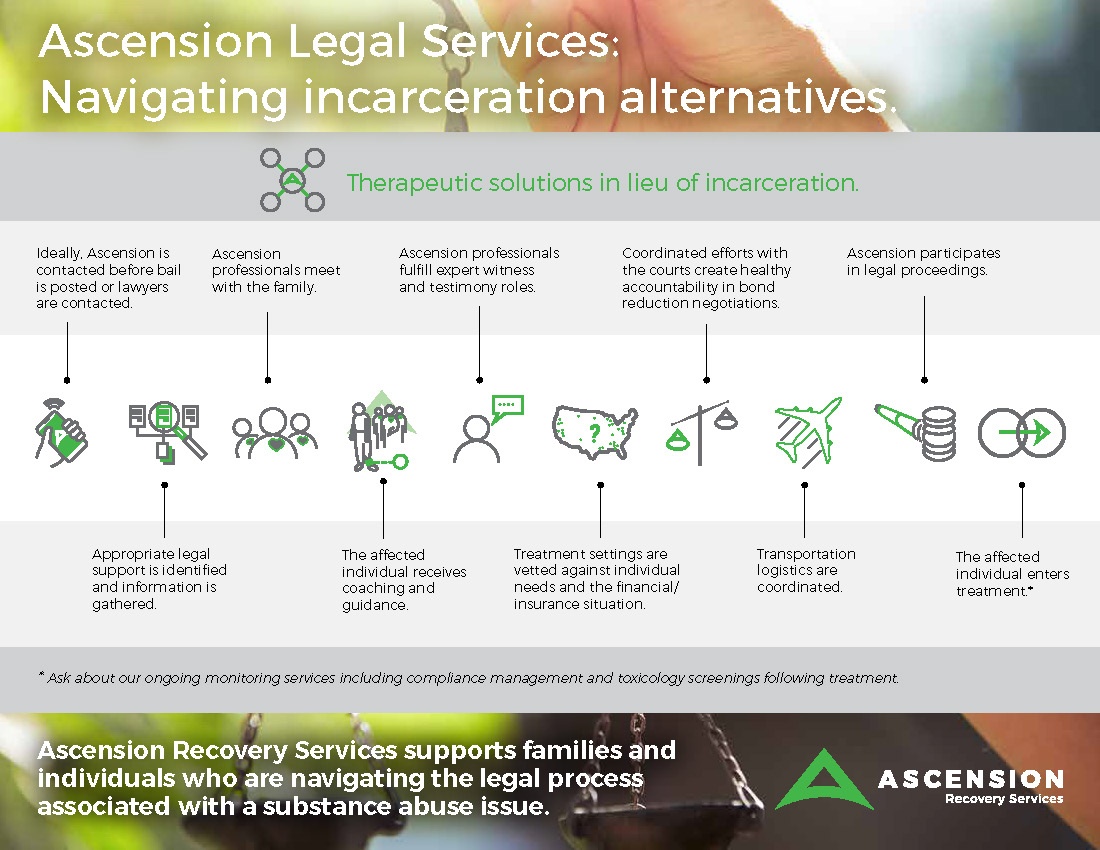 Consulting
We believe that everyone deserves a healthy life, and it's okay to need guidance to help get your loved one there.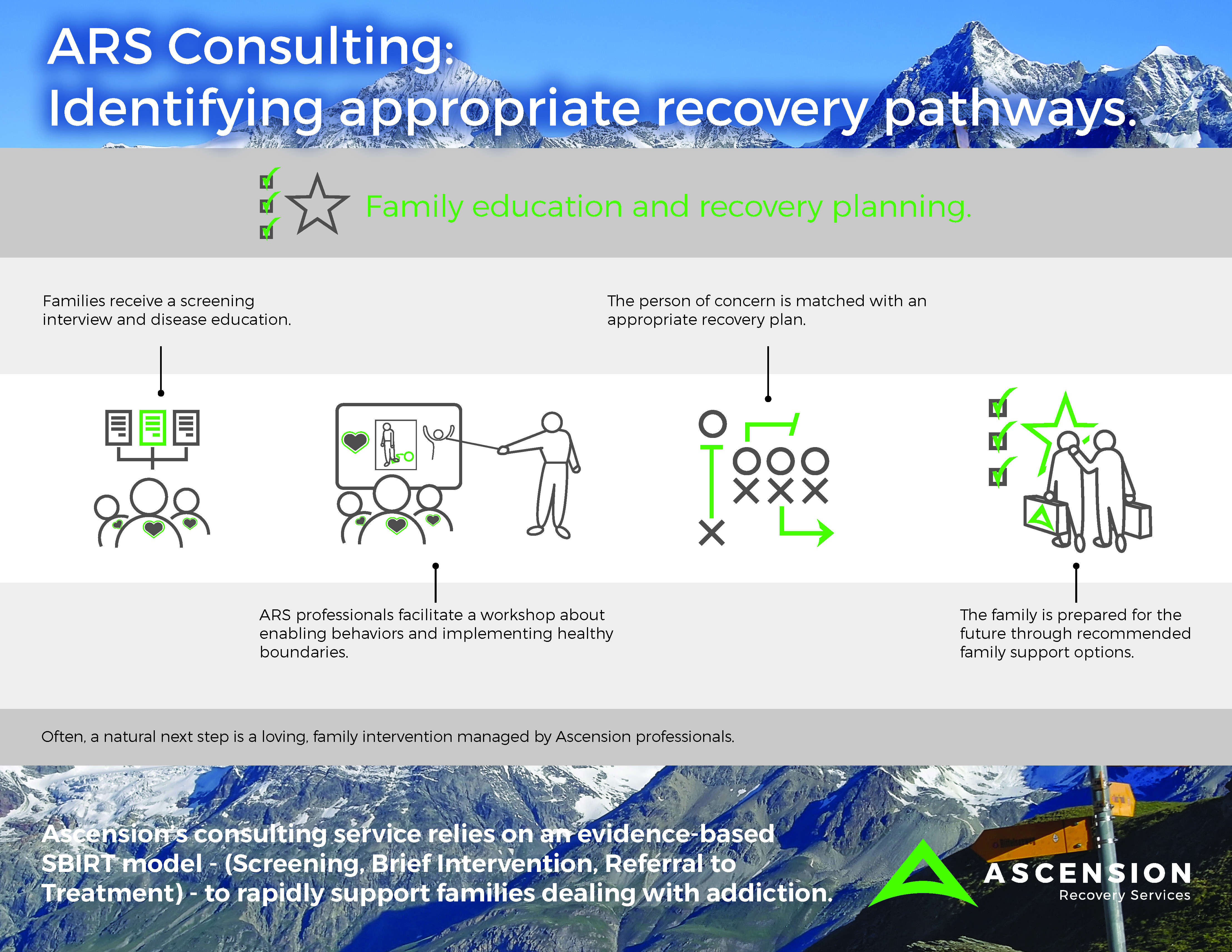 Clinical Transport
Getting a person from A to B can be tough. We provide clinical transportation services, nationally.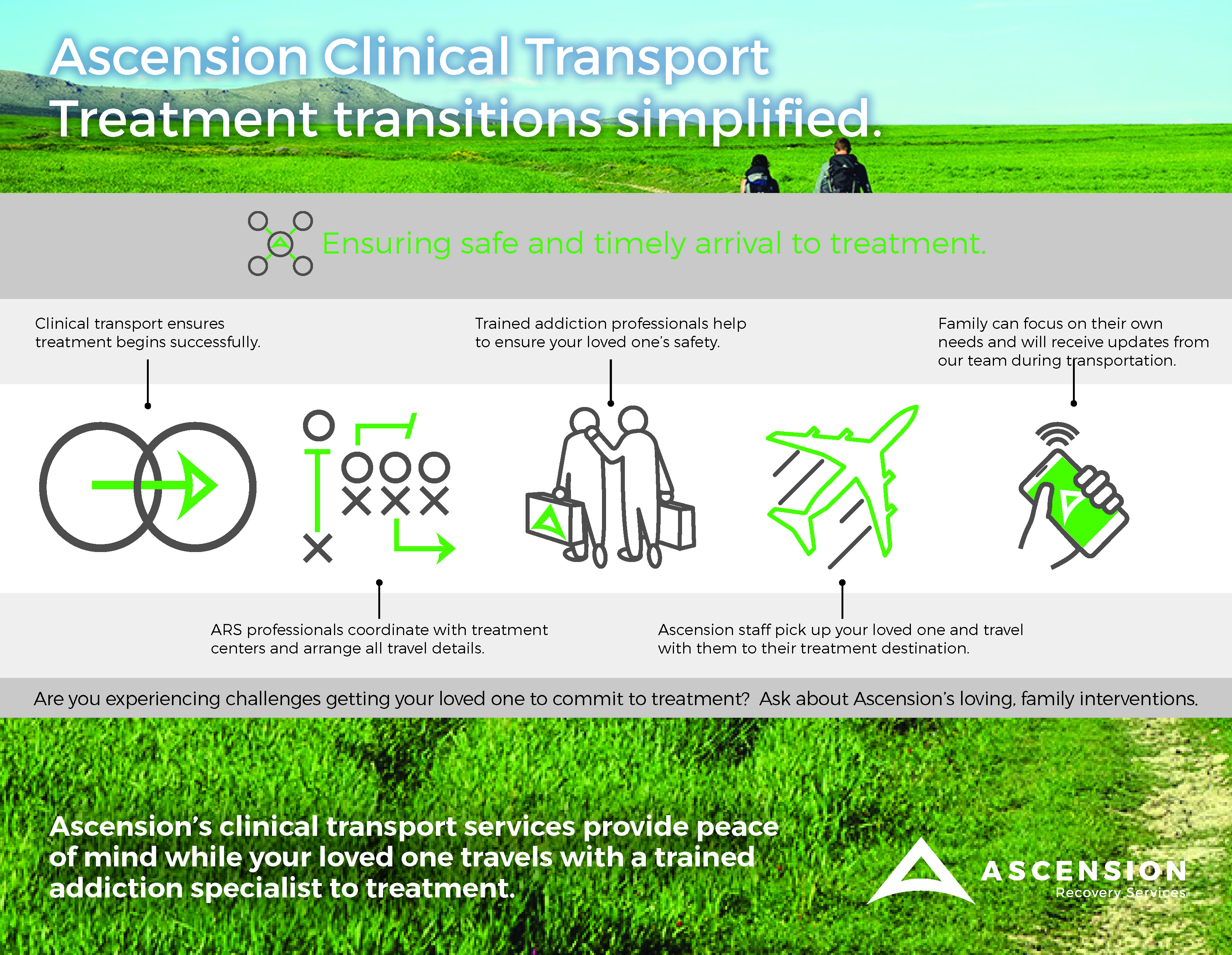 ---
THE CLIMB | ASCENSION RECOVERY SERVICES
Our blog is called The Climb, and we will be updating this page regularly with new, educational content about program development, intervention and recovery services information.
You can subscribe below to keep up-to-date with what we are doing.
Have any questions? Don't hesitate to contact us below: