So your heart is in the right place. You want to help others that are struggling with one of the biggest issues facing the United States, but you're not sure exactly what to do.
This blog is intended to shed some light on the process of opening a substance use disorder treatment center and what is needed prior to its operation.
---
WHAT DOES IT TAKE TO START A SUBSTANCE USE TREATMENT CENTER?
Starting a substance use treatment center, be it residential, outpatient or sober living home, is very much a life changing event. When you follow your passion and do work that leaves you feeling fulfilled at the end of the day, the rewards can be endless.
But doing this type of work and owning a business of this nature can be difficult when it comes to making sense of state requirements and reimbursement. Knowing that your intentions are good and having a vision is where it all begins.
Like a building needs a good architectural design, a good contractor to construct it, maintenance once its built and state inspection to confirm its integrity, your program will need each of these built out in great detail.
Design
The design of your program is important due to the attractiveness to potential clients and the effectiveness of modalities used. The design is captured in the policies and procedures that will make your program run effectively. This design will speak directly to your third-party payers and will determine your approval of credentialing and contract rate. Using sound evidence-based practices will strengthen this attractiveness and your program's credibility.
Construction of the Program
Following the design of the program, the construction of the program includes a specified staffing roster and detailed schedule that maximizes time utilization. By following the design built into the Policies and Procedures, staffing and program scheduling should follow closely with the state regulations that will help you pass your state inspection to obtain state licensure. This is where the design comes into building the program to be structurally sound and eventually will help you obtain Joint Commission of Accreditation of Healthcare Organizations (JCAHO) accreditation.
Most states will ask to inspect your program two times before they approve you to operate as a provider.
The first inspection is of the design that is captured in your policies and procedures and supporting documents.
The second part is to ensure that your physical site is safe and appropriate to provide treatment.
These inspections give the state confidence in your mission through the organized way in which you present your delivery of care.
Licensing & Credentialing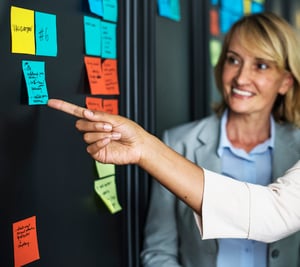 Licensing with the state is a program defining achievement when it comes to reimbursement rates and the structure of your facility. Once you obtain state licensure, the door opens for your practice to operate as a facility. As a facility, you can bill insurance in a different capacity, staff differently and are able to help more people through group services.
Once you obtain state licensing, it is now time to become credentialed. This is what will set your program up for continued financial success which in turn keeps your doors open to help more people regain control over their lives. The maintenance from here on out includes tweaking policies and procedures as issues arise, changing scheduling as necessary to maximize your census and maintaining a staff that draws clients to your program.
---
WHAT IS THE NEXT STEP?
Your mission is clear, and you want to help those struggling with addiction, but you are not quite sure where to begin.
At Ascension Recovery Services, we make it our business to intertwine your vision with the design, construction and implementation of a high quality, state licensed and credentialed treatment center.
Working with our program development staff allows you to focus on your mission while we take care of the nuts and bolts that will build you a facility that will change the lives of those you aim to serve and will be profitable for you in many different ways.
Our proven track record supporting program development efforts focuses on two main goals:
Providing the highest quality of care
Creating a sustainable and financially viable business model
If you're interested in starting your journey with opening a treatment center, contact us: